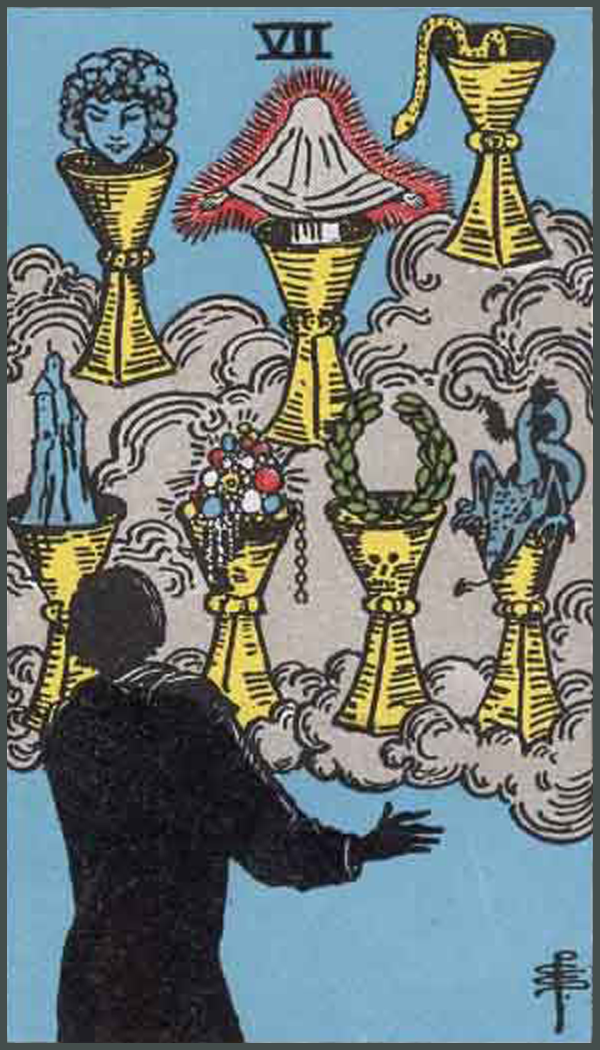 Seven of Cups

Overall meaning
Seven of Cups represents having lots of options to choose from or multiple options open to you. It can be an indication that you have so many choices or so many things going on at once that you may become overwhelmed or unable to focus properly. You have to limit the amount of options and direct your focus towards what you are really passionate about.
Description
Seven of Cups shows a figure standing in front of seven cups. The cups are in a cloud, which represents the element of air, that is, thought and mental activity. The card symbolizes choices or our longings, dreams or visions, but at the same time also the obstacles, difficulties and illusions that are present when you have to make a choice.
It seems that there are many wonderful options available.
These are found in the cups: jewels indicate wealth, the castle indicates power and money, the snake indicates sexuality, transformation or the transforming power of sexuality, the laurel wreath symbolizes success, while the skull engraved in the cup indicates death, the luminous figure indicates your own enlightenment, the dragon refers to adventure or the fear of failure or problematic negative patterns, the mask refers to the possibility of playing a new role on the stage of life and the snake refers to wisdom.
It is then your task to choose and make the wish a reality in your world.
Interpretation
Seven of Cups shows a powerful imagination, a thought or mental activity and possibilities for a diverse ingenuity. It also indicates that you suffer from emotional depression or mood swings. Be aware that you yourself need to manifest your dreams, and that right now you have the abundance of the mental, creative and artistic talents needed.
Furthermore, Seven of Cups indicates that it is time to open your eyes and recognize the realities. Only by truly acknowledging your own reality and situation can you move forward. Ask yourself if you have overestimated yourself or the state of affairs and/or have displaced or even distorted reality.
Pain relief is often sought via immediate need satisfaction, which can be a habitual pattern. Find out what it is you reach for in order to be satisfied immediately. And try to look back seven years to see if the pattern was the same then.
When you draw this card, it indicates that you are ready to drop this pattern. Only by focusing on what you are really passionate about will you succeed. Understand the fundamental nature of your desires and recognize that they can never truly be fulfilled as long as they are external. Enter the inner path and find that your real needs are met here.
Keywords
Other ways to interpret the Seven of Cups are: having too many ideas or the project, possibilities, imagination, illusion, wishful thinking.
Numbers
The tarot card is associated with number 7, which means that you must pay attention to this number in relation to the challenge you are asking the tarot about. This is often expressed in the way that in the next 7 days | weeks | months | years it will be advantageous for you to let go of old bad habits and free yourself from emotions that have affected your everyday life, until now, very deeply.
Astrology
Venus in Scorpio. With the help of true love (Venus) for yourself, you can transform yourself and your behavior patterns profoundly (Scorpio).
Affirmation
I see and manifest my visions. I choose wisely.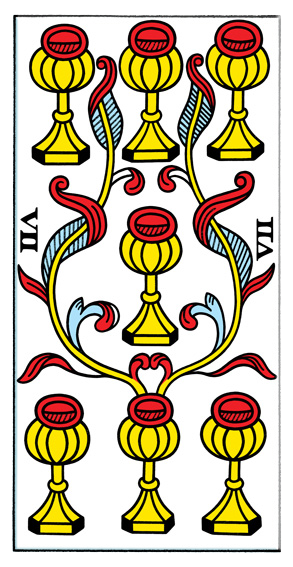 Ask Tarot online
The tarot cards can guide you in all life's issues - love, career, life choices, big or small. Ask tarot cards for advice. Draw a tarot card and become clearer about your choices. Click on the card!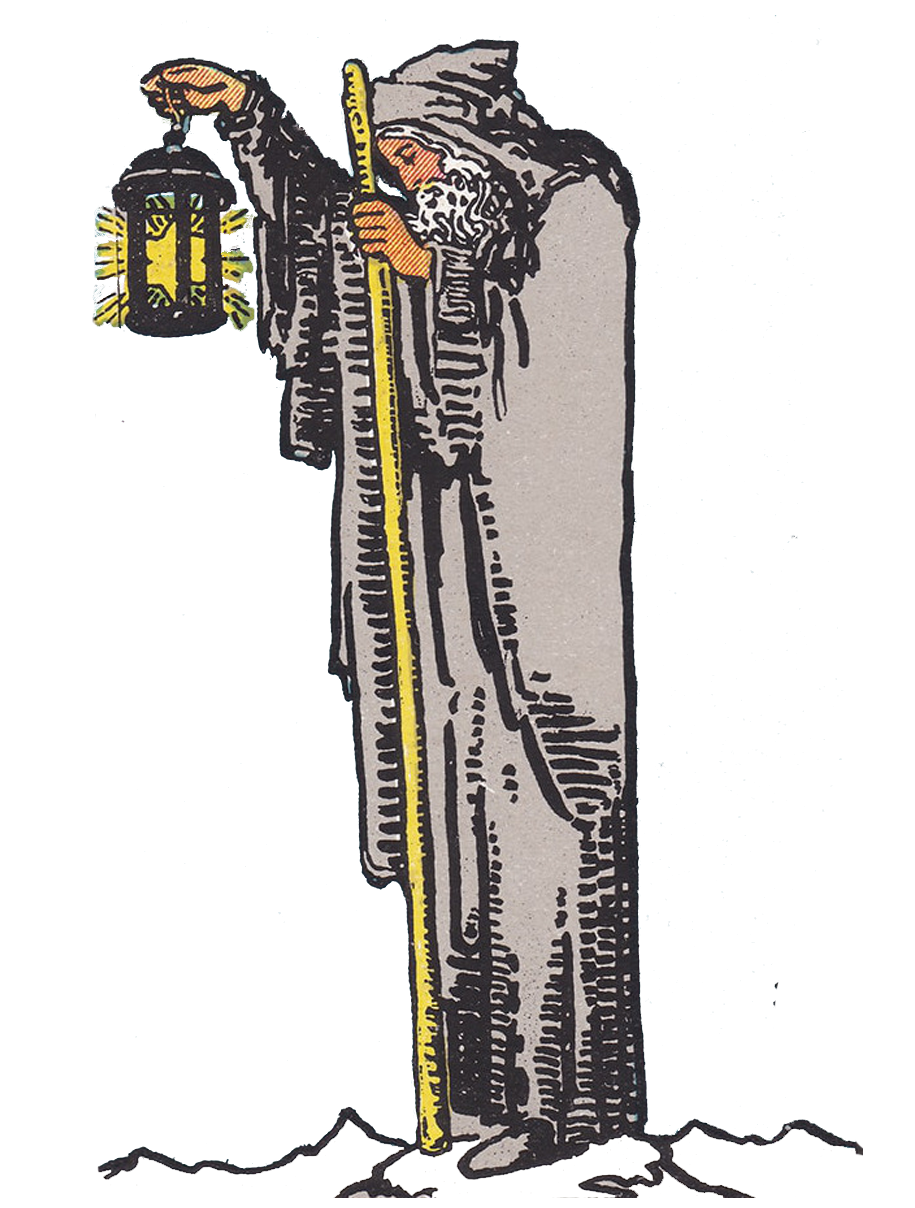 Arcana Major
The Fool I. The Magician II. High Priestess III. Empress IV. The Emperor V. Hierophant VI. Lovers VII. Chariot VIII. Strength IX. Hermit X. Wheel of Fortune XI. Judge XII. Hanged Man XIII. Death XIV. Temperance XV. Devil XVI. Tower XVII. Star XVIII. Moon XIX. Sun XX. Judgment XXI. World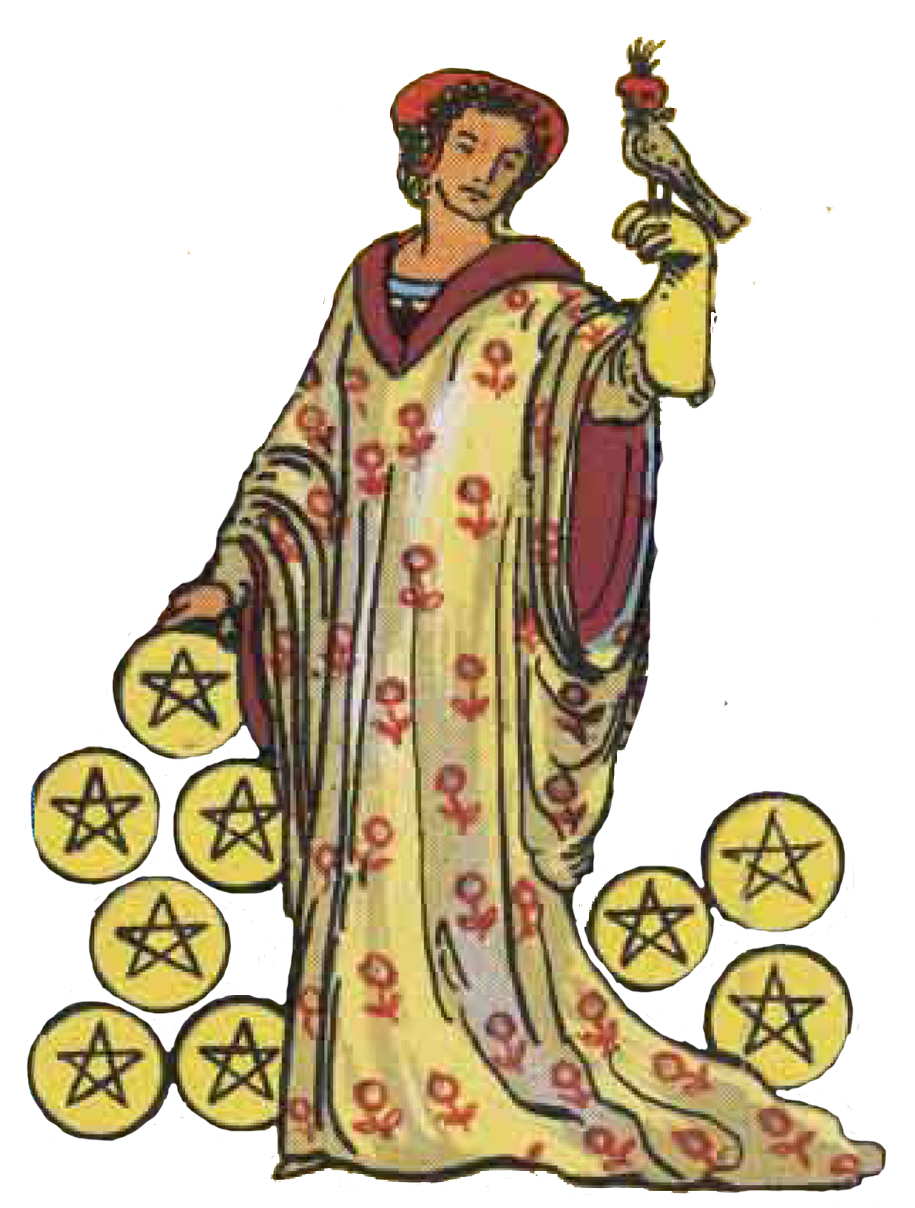 Coins
The Ace of Coins | Two Coins | Three Coins | Four Coins | Five Coins | Six Coins | Seven Coins | Eight Coins | Nine Coins | Ten Coins | Coins Page | Knight of Coins | Queen of Coins | King of Coins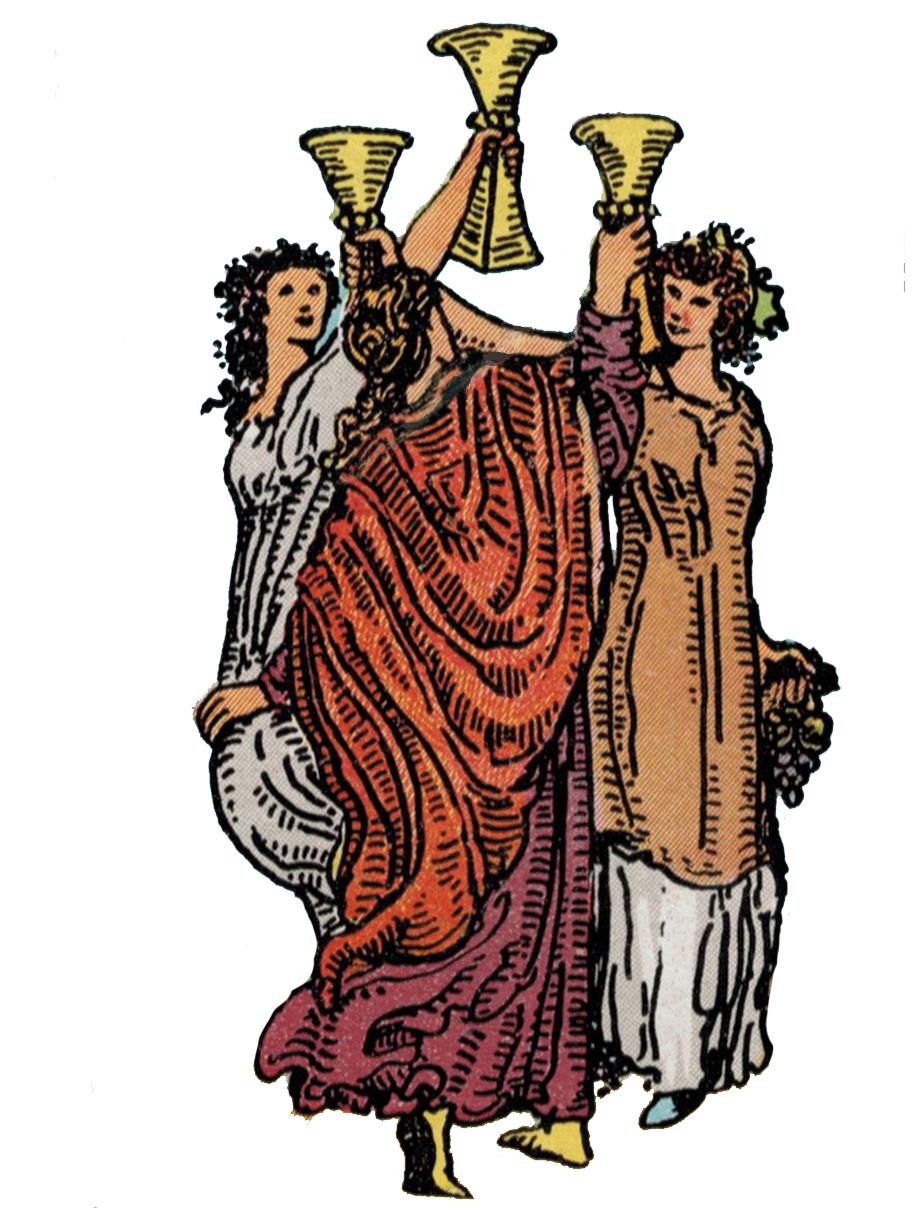 Cups
Ace of Cups | Two Cups | Three Cups | Four Cups | Five Cups | Six Cups | Seven Cups | Eight Cups | Nine Cups | Ten Cups | Cups Page | Knight of Cups | Queen of Cups | King of Cups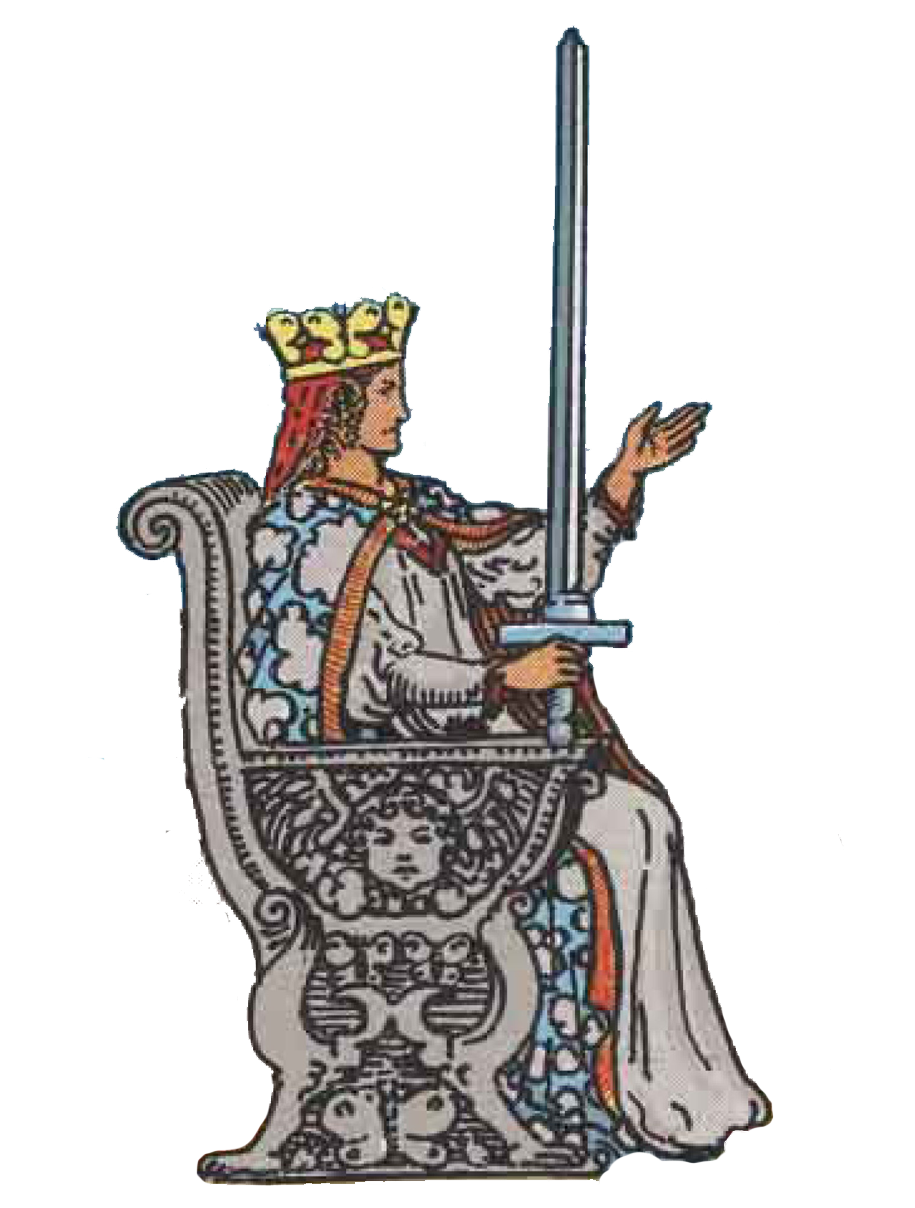 Swords
Ace of Swords | Two Swords | Three Swords | Four Swords | Five Swords | Six of Swords | Seven Swords | Eight Swords | Nine Swords | Ten of Swords | Swords Page | Knight of Swords | Queen of Swords | King of Swords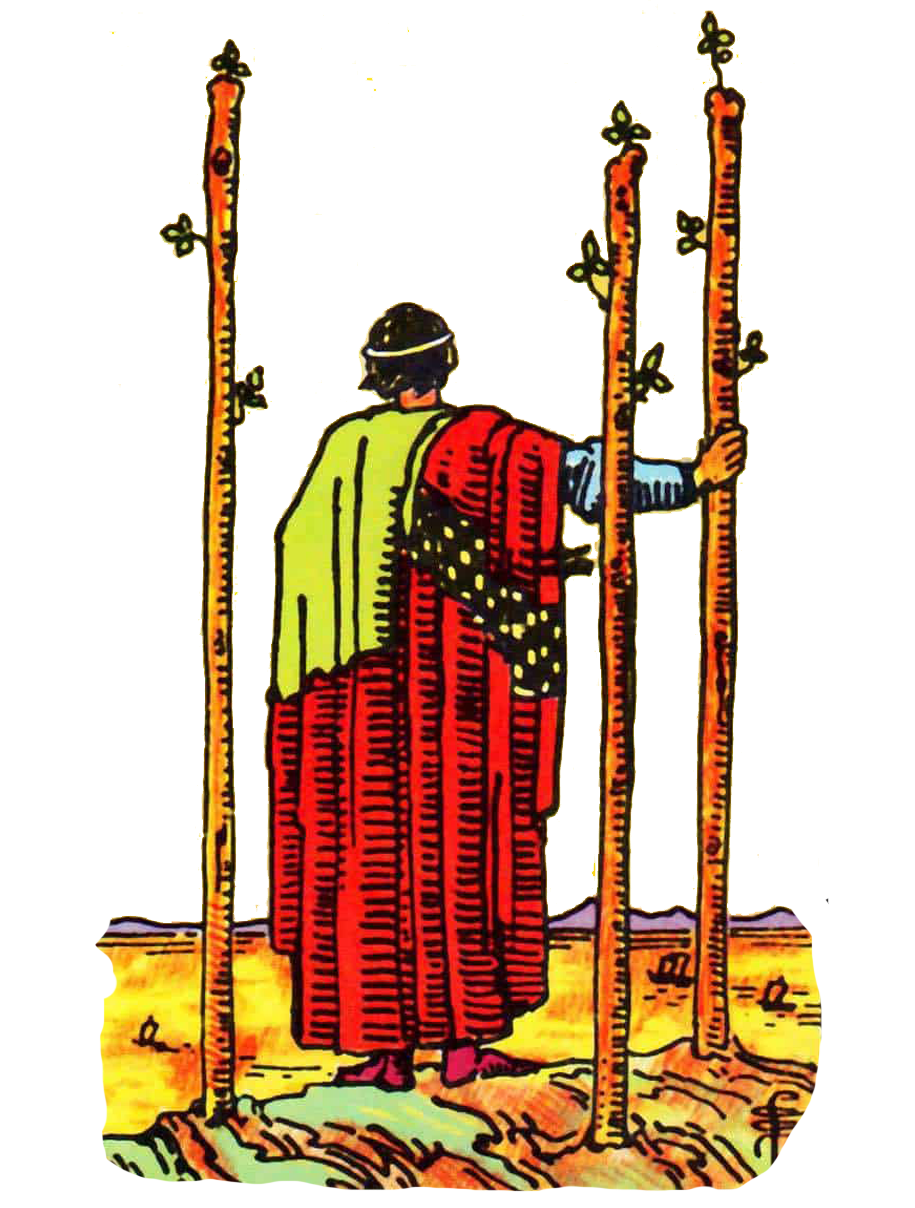 Wands
Ace of Wands | Two Wands | Three Wands | Four Wands | Five Wands | Six Wands | Seven Wands | Eight Wands | Nine Wands | Ten Wands | Wand's Page | Knight of Wands | Queen of Wands | King of Wands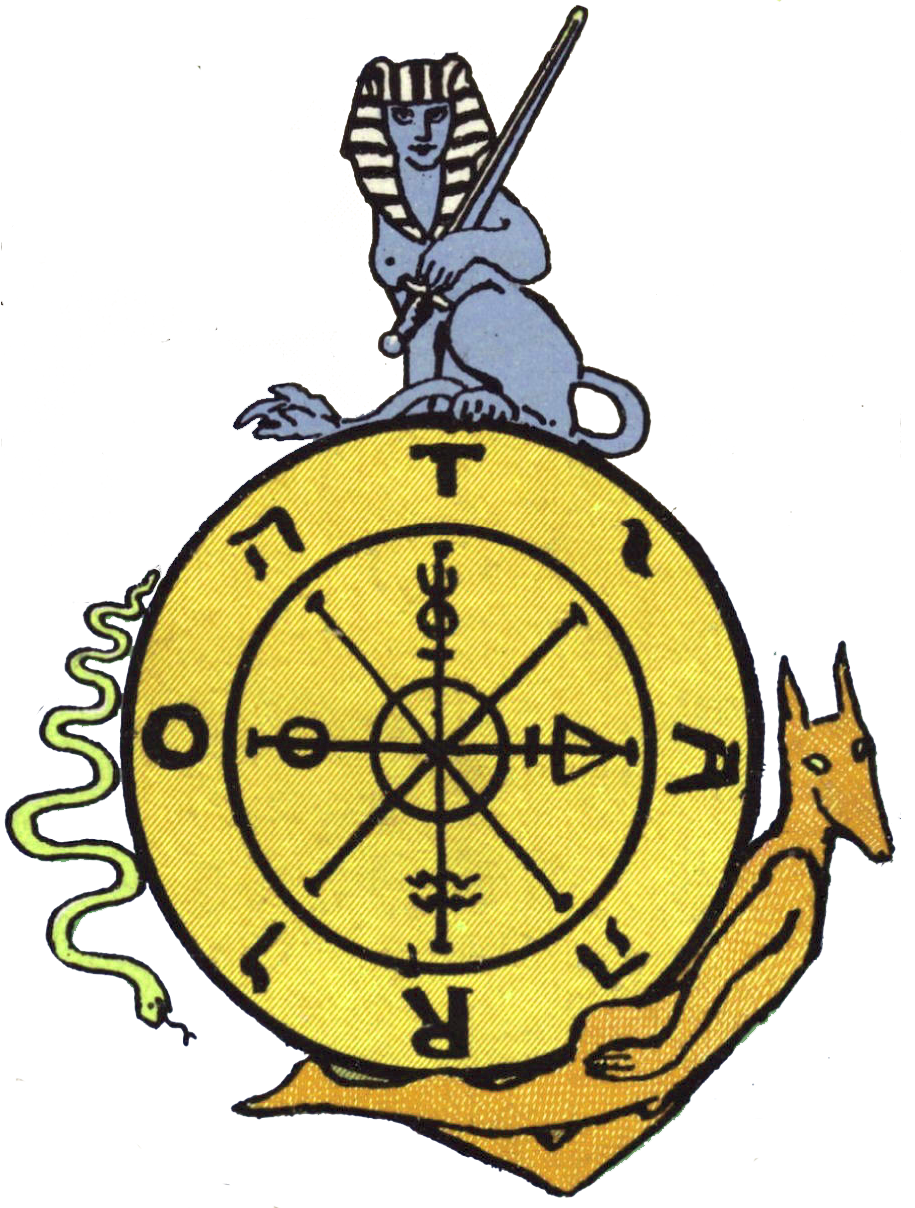 Pick a Tarot Card
The tarot cards can guide you in all life's issues - love, career, life choices, big or small. Draw a tarot card and become clearer about your choices.
Take a moment to think about your question before clicking on the card. If the universe doesn't know what the question is, it doesn't know what to answer!