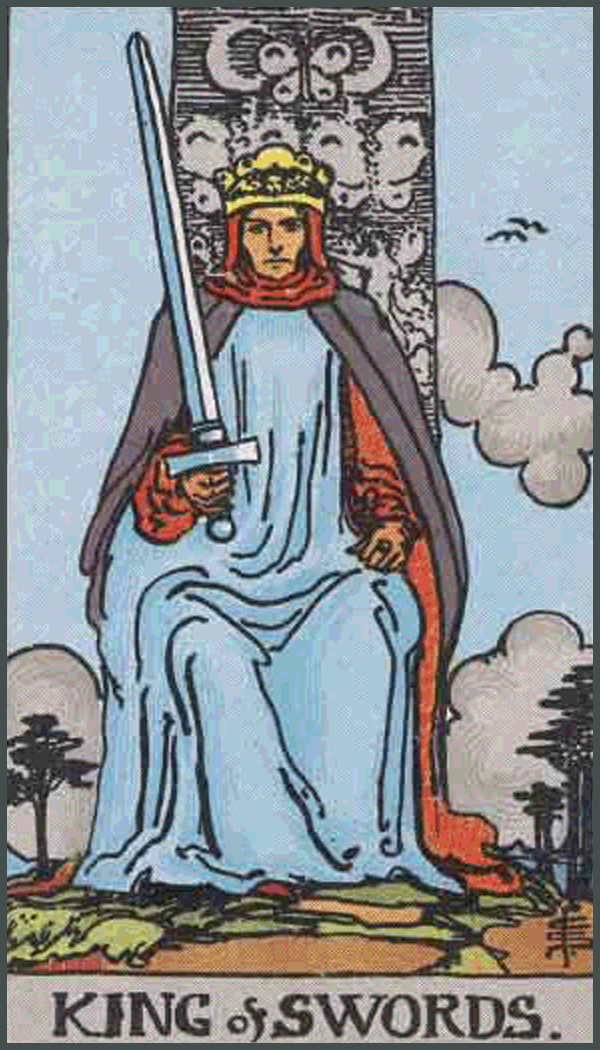 King of Swords

Overall meaning
The King of Swords represents logic and reason, integrity, ethics and morality. It is a call to use logic, common sense, The Rational, the objectively measurable, the head over the heart. The King of Swords can represent legal affairs, law enforcement, military, police and judges.
Description
The King of Swords shows a man sitting on a throne with a sword in his hand. He wears a cloak and a crown on his head. The landscape around him is hilly, and you can see a few trees. He sits on an elevation or mountain peak in the landscape. He carries his sword as if he were ready for battle. He is depicted as a powerful monarch.
The card symbolizes an authoritative figure with a sense of what is true and fair. He uses his sword, his power energetically, as a clear and visible force or threat. He represents the authoritative father, the judge and the professor. He symbolizes institutional power.
Interpretation
The card has to do with strong convictions, strong determination and a strong and determined moral code – this is something you yourself will need now or in the near future. Or they are qualities you will find are present in a person you will meet soon.
The card also stands for honesty and justice – qualities that mean you will deal with what is fair in life and what creates equality in life.
The card may also indicate that you are in a good position to make new plans, set goals and bring them to fruition. You have the ability to direct your mental activity, an ability to get ideas and to concentrate. When you draw this card, it is a sign that there are passionate thoughts about achieving a goal, your whole being wants on all levels (that is, physically, emotionally, mentally and spiritually) to move forward and achieve success with a given task.
Keywords
Other descriptions denoting the King of Swords are: authority, focus, will, intention, institutions, selfishness, tyranny, structure, structure, routine, intelligent, rational, logical, power, authority, strength, ethics, morality.
Numbers
The tarot card is associated with number 14 – which in numerology is often reduced to 5 (the sum of 1+4) which means that you must pay attention to these two numbers in relation to the challenge you are asking the tarot about.
Astrology
The card is associated with the astrological air signs Aquarius, Libra and Gemini.
Affirmation
I can do what i want. I steer towards my goal.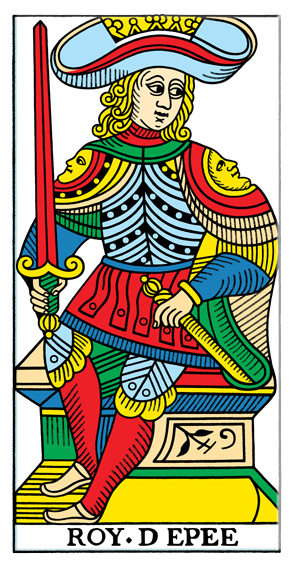 Ask Tarot online
The tarot cards can guide you in all life's issues - love, career, life choices, big or small. Ask tarot cards for advice. Draw a tarot card and become clearer about your choices. Click on the card!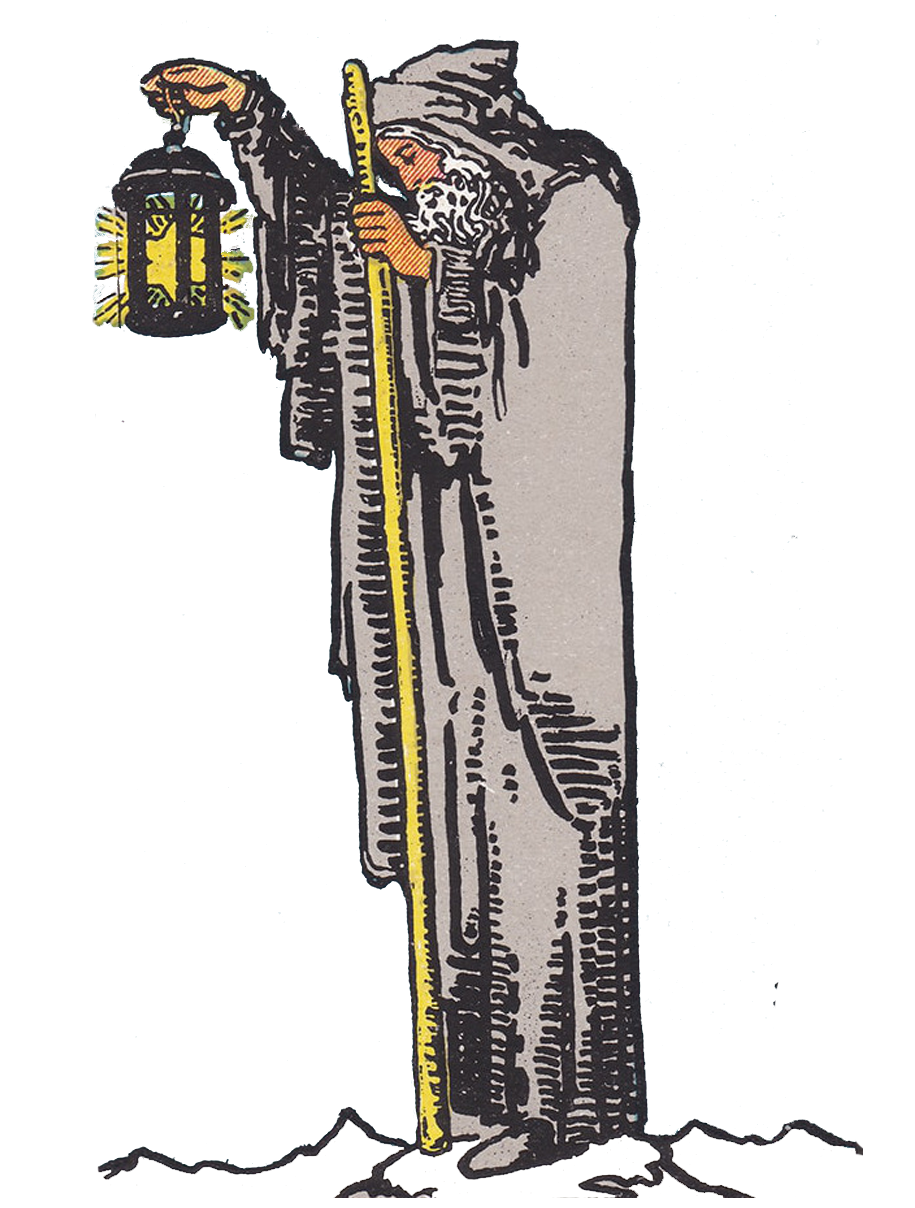 Arcana Major
The Fool I. The Magician II. High Priestess III. Empress IV. The Emperor V. Hierophant VI. Lovers VII. Chariot VIII. Strength IX. Hermit X. Wheel of Fortune XI. Judge XII. Hanged Man XIII. Death XIV. Temperance XV. Devil XVI. Tower XVII. Star XVIII. Moon XIX. Sun XX. Judgment XXI. World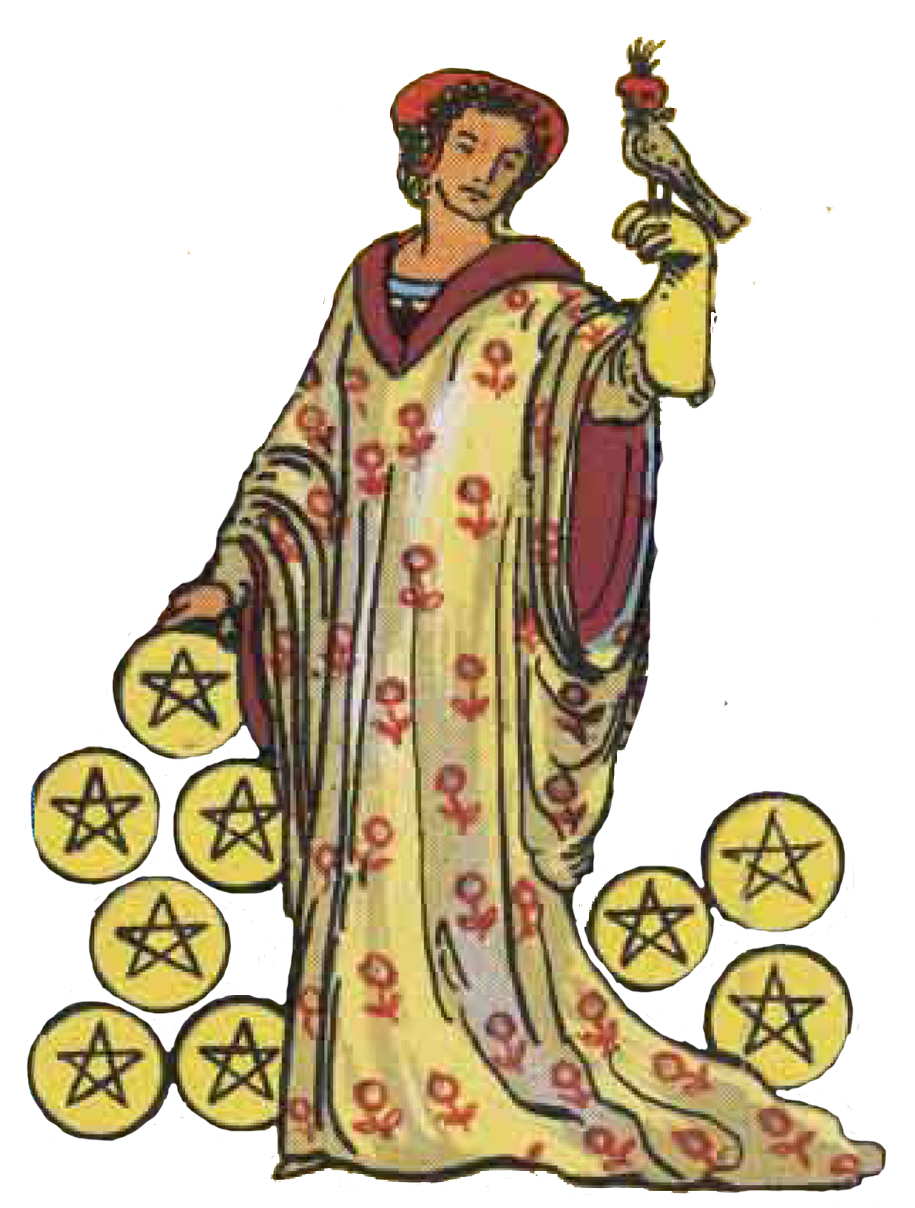 Coins
The Ace of Coins | Two Coins | Three Coins | Four Coins | Five Coins | Six Coins | Seven Coins | Eight Coins | Nine Coins | Ten Coins | Coins Page | Knight of Coins | Queen of Coins | King of Coins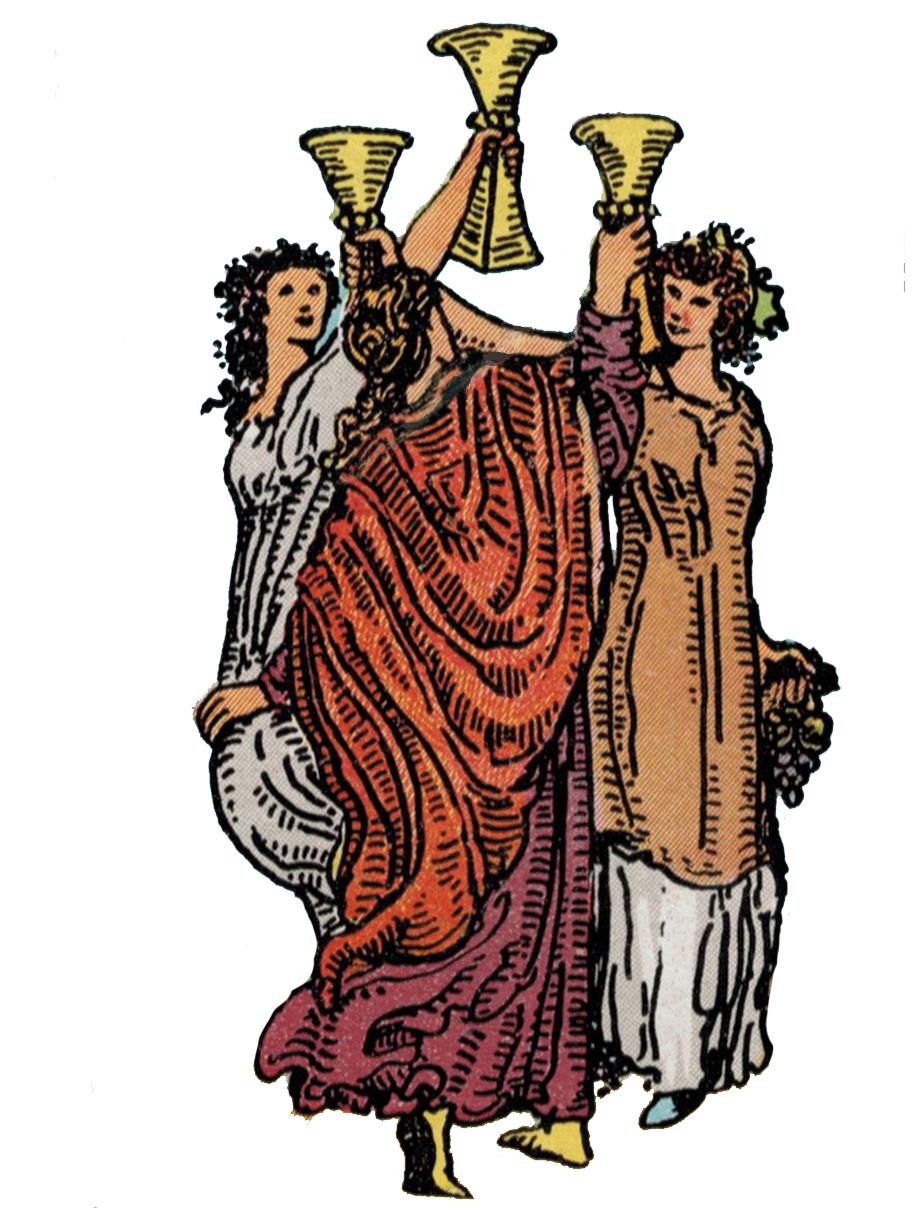 Cups
Ace of Cups | Two Cups | Three Cups | Four Cups | Five Cups | Six Cups | Seven Cups | Eight Cups | Nine Cups | Ten Cups | Cups Page | Knight of Cups | Queen of Cups | King of Cups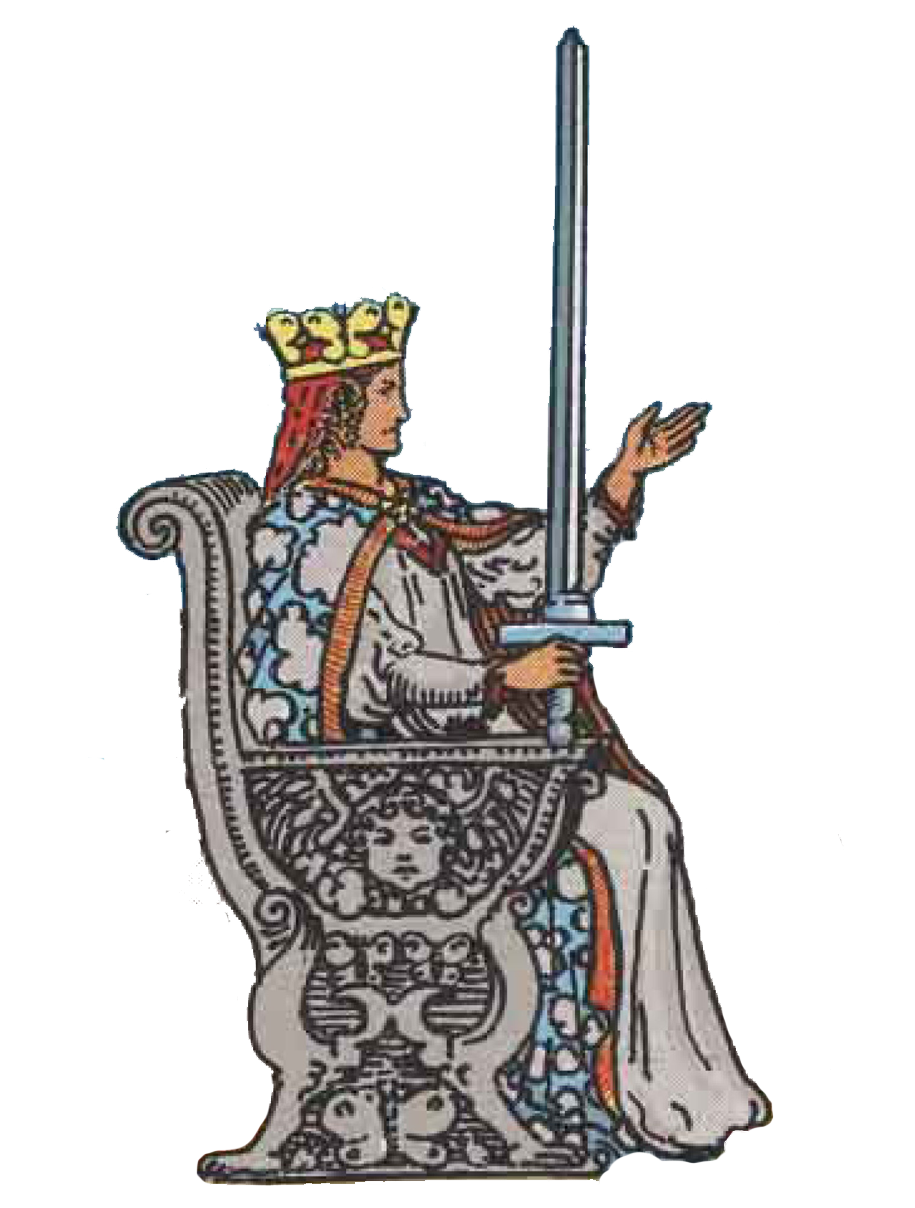 Swords
Ace of Swords | Two Swords | Three Swords | Four Swords | Five Swords | Six of Swords | Seven Swords | Eight Swords | Nine Swords | Ten of Swords | Swords Page | Knight of Swords | Queen of Swords | King of Swords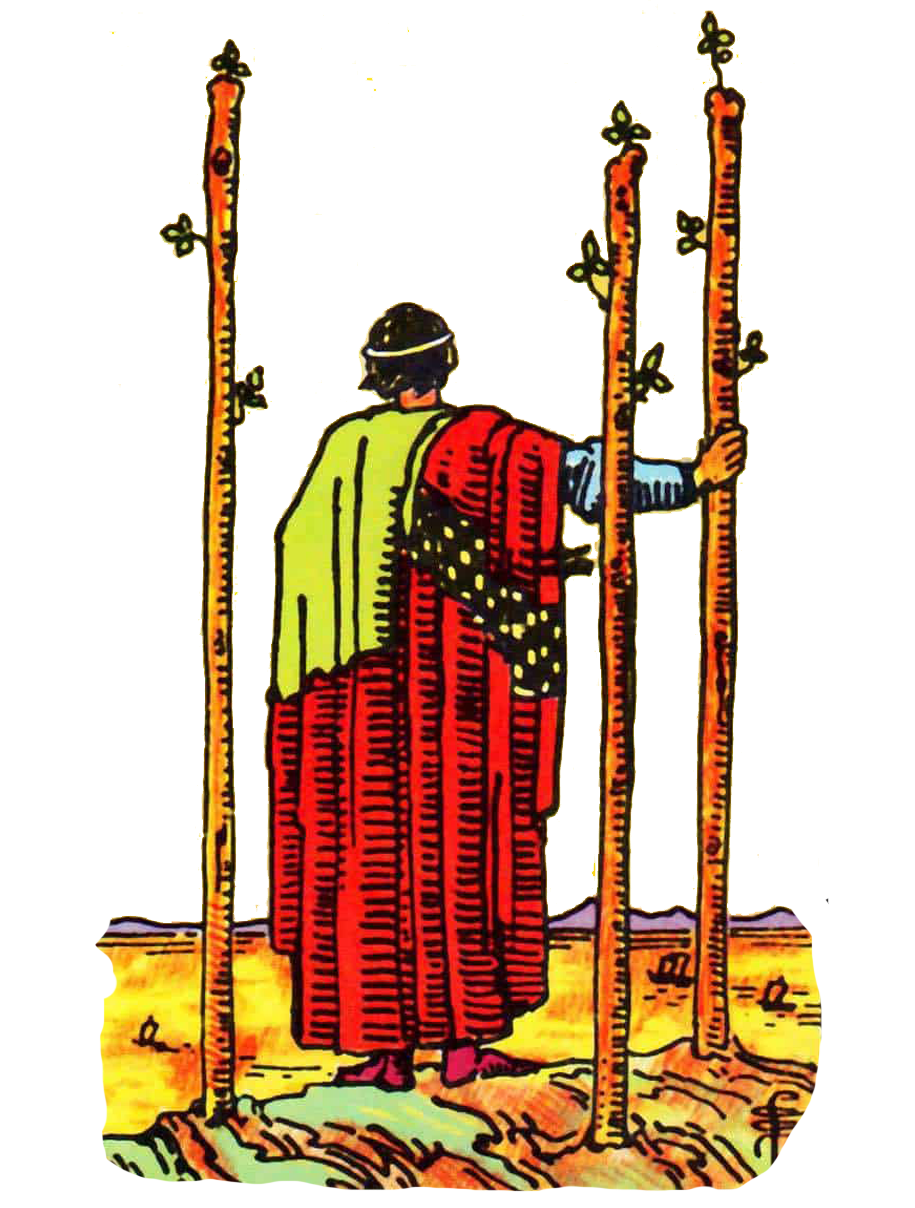 Wands
Ace of Wands | Two Wands | Three Wands | Four Wands | Five Wands | Six Wands | Seven Wands | Eight Wands | Nine Wands | Ten Wands | Wand's Page | Knight of Wands | Queen of Wands | King of Wands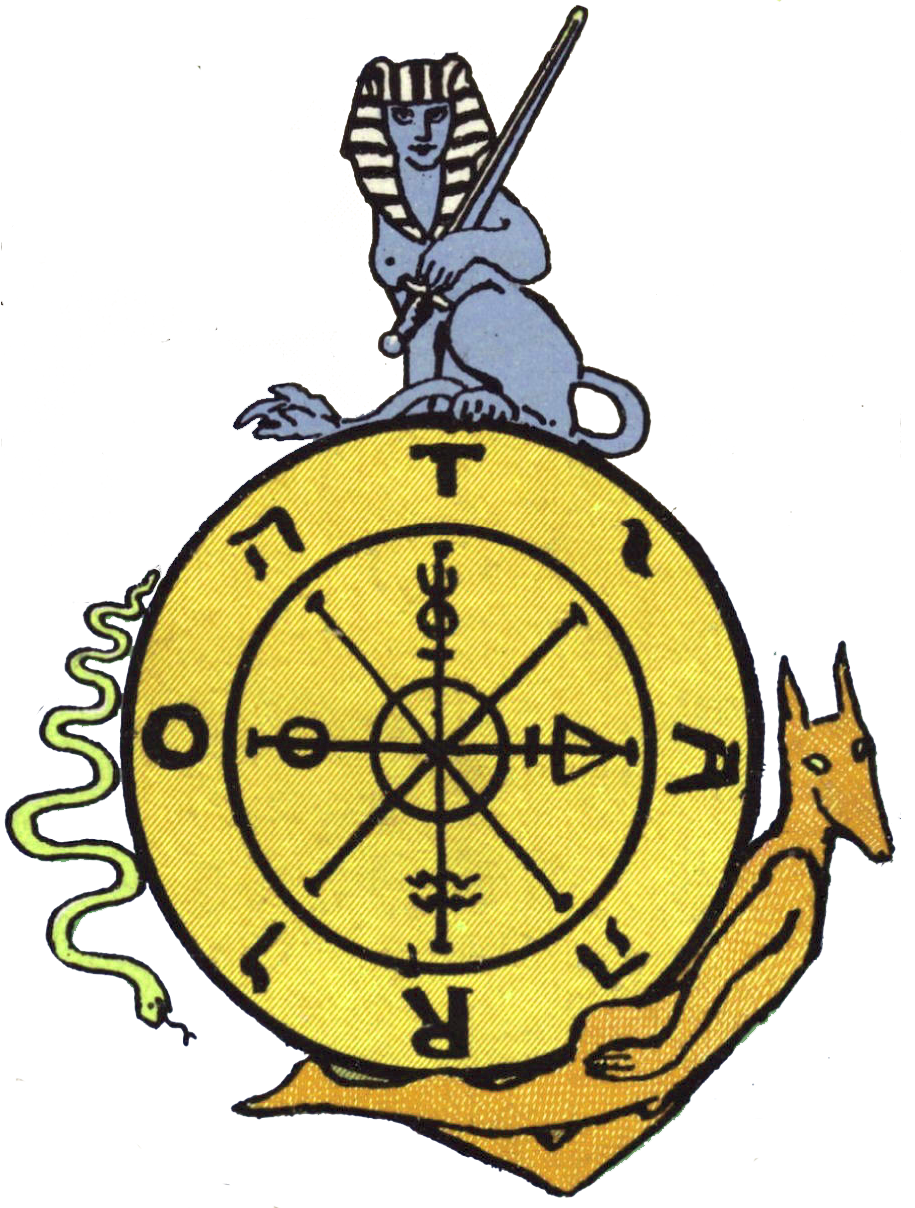 Pick a Tarot Card
The tarot cards can guide you in all life's issues - love, career, life choices, big or small. Draw a tarot card and become clearer about your choices.
Take a moment to think about your question before clicking on the card. If the universe doesn't know what the question is, it doesn't know what to answer!