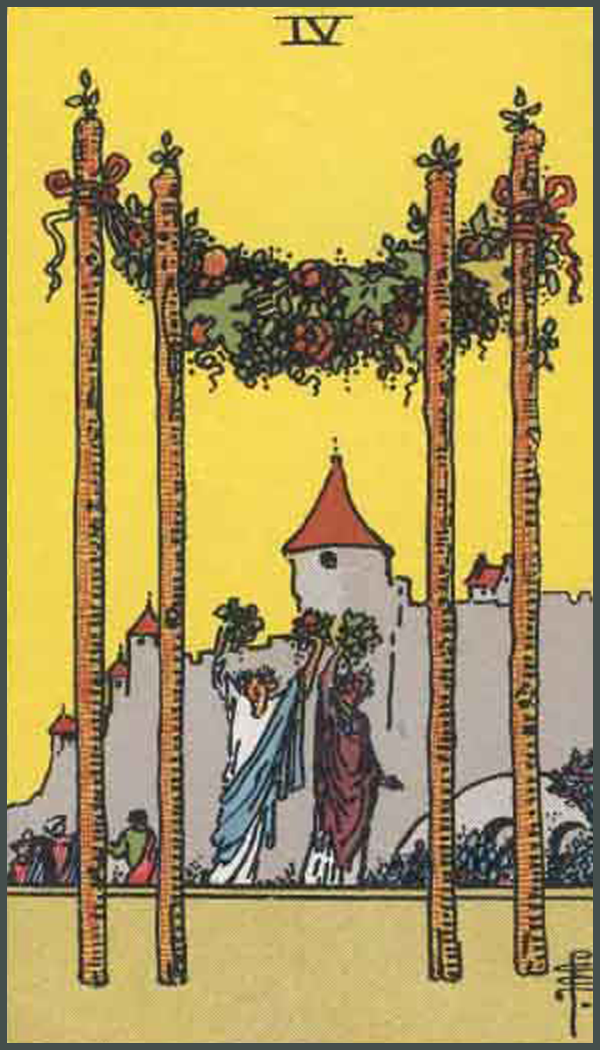 Four of Wands

Overall meaning
Four Wands are happy families, parties, surprises. You have achieved something or are on the threshold of this. You come home, reunited, feel welcome and supported.
Description
Four Wands shows a gate made of four Wands. The Wands are decorated with a wreath of flowers, fruits and ribbons above – as if to create a portal. A happy cheering couple is seen on the other side of the wands; they wear wreaths of flowers in their hair and hold bouquets of flowers in their raised arms.
Their raised arms seem to express both a wave to the viewer and a cheer. There is a party atmosphere, and you can also see people leaving the party scene and walking towards the castle in the background.
The card has a yellow background that indicates the bright and light mood that is over the event or situation. The card, of course, first and foremost symbolizes celebration and celebration of events – such as harvest festival, traveling party, graduate party, summer party and housewarming. It indicates that it is time for thanksgiving and to be receptive and grateful.
Interpretation
The Four of Wands shows that you have completed a good job and you can now allow yourself to exhale and enjoy the situation. You might want to consider having your own ritual to mark the transition – either in the form of a party or a holiday.
The card stands for completion. It show that there is a circle that has been completed. The contradictions and perspectives that may have been on a project now meet and connect in a center or midpoint. The card shows that it is the time for union and completion, but also the possibility of a new beginning.
Thus, when you draw this card, it is a sign that something is coming to an end and that there is a desire to begin something new. Four of Wands also indicates something about an ability to look at things holistically.
Seen in this perspective, the card is relatively pleasant because it refers to a nice time that you can enjoy. And at the same time it may be good to remember that after this period you must return to your daily routines, work, project and relationships.
But each thing in its time. The favorable time and energy contained in the card will also be useful for clarifying matters where there are problems with getting closer to people, joining a group and generally sharing your energy with others.
Keywords
Other words that describe the Four of Wands are: well-deserved celebration, a time of joy, dancing, laughter, open doors, open-mindedness, completed work, arrival, luck and beauty, happy families, reunions, homecoming, celebrations, surprises, parties, weddings, family coming together, community spirit, teamwork, success, prosperity, stability, security, being proud of achievements.
Numbers
The tarot card is associated with number 4, which means that you must pay attention to this number in relation to the challenge you are asking the tarot about. This is often expressed in the way that in the next 4 days | weeks | months | years it will be advantageous for you to complete matters and at the same time move in new directions.
Astrology
Venus in Aries. It is time to show/experience love and enjoyment towards what has been accomplished and the realization that something new must be started.
Affirmation
I rejoice in life. I know how to celebrate my triumphs. I end the old and welcome the new. I am settled.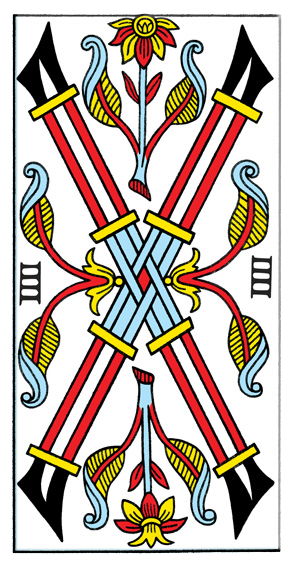 Ask Tarot online
The tarot cards can guide you in all life's issues - love, career, life choices, big or small. Ask tarot cards for advice. Draw a tarot card and become clearer about your choices. Click on the card!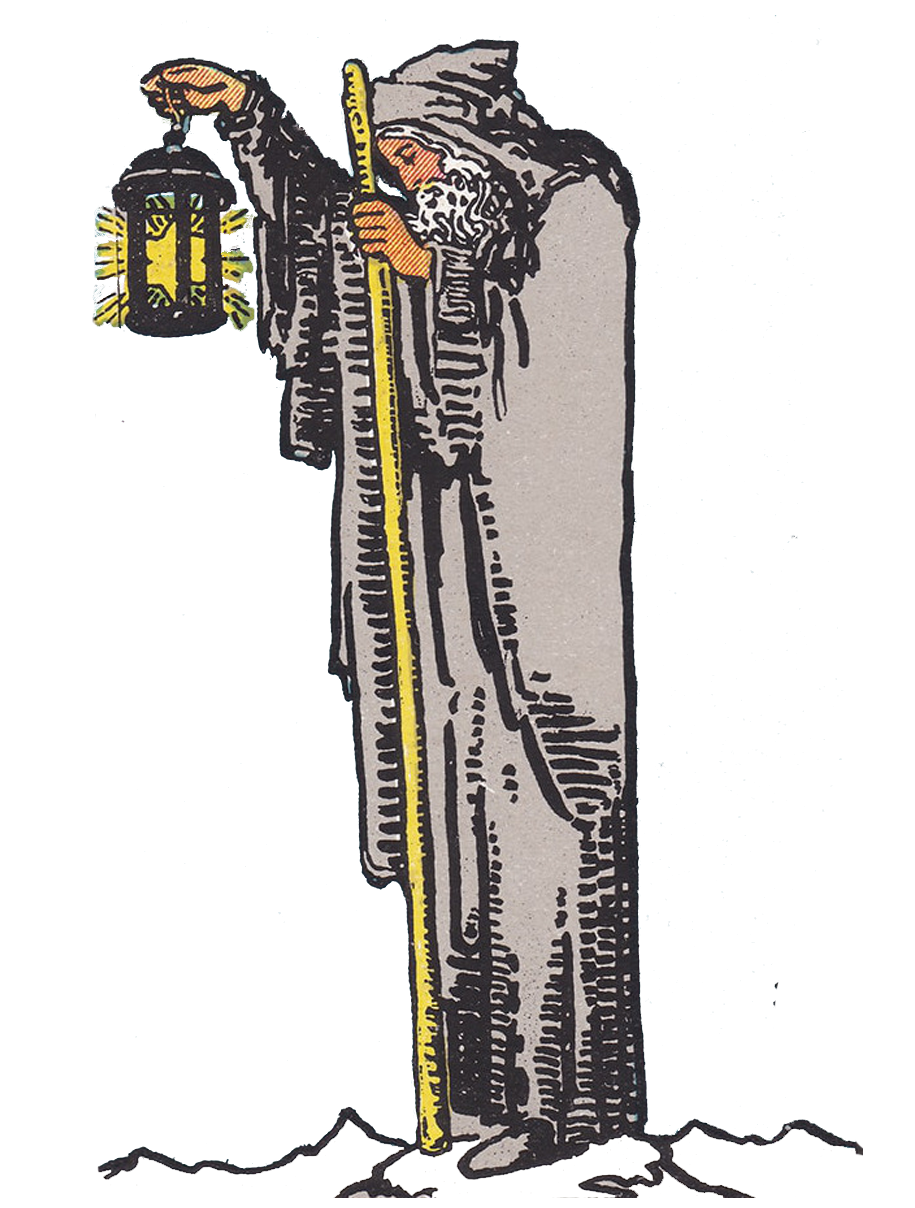 Arcana Major
The Fool I. The Magician II. High Priestess III. Empress IV. The Emperor V. Hierophant VI. Lovers VII. Chariot VIII. Strength IX. Hermit X. Wheel of Fortune XI. Judge XII. Hanged Man XIII. Death XIV. Temperance XV. Devil XVI. Tower XVII. Star XVIII. Moon XIX. Sun XX. Judgment XXI. World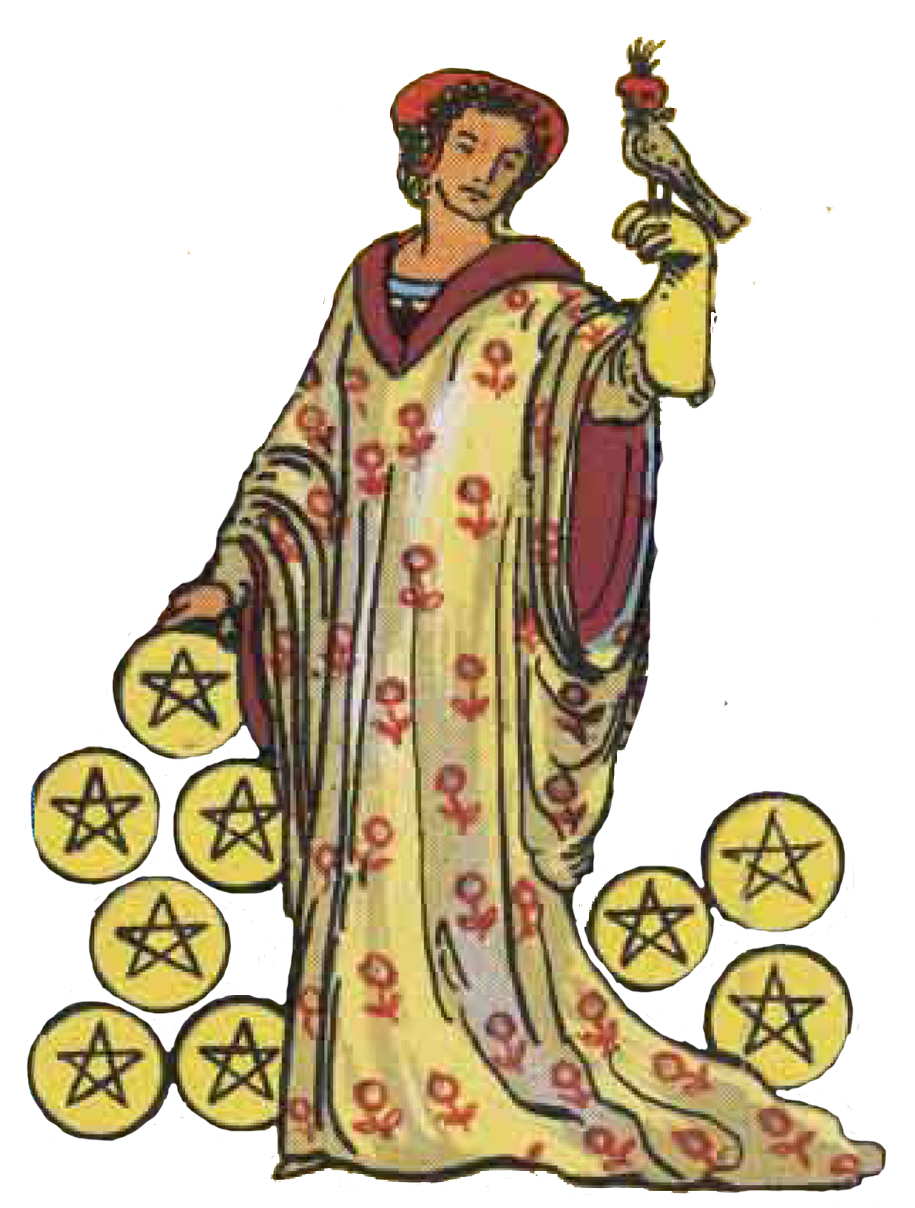 Coins
The Ace of Coins | Two Coins | Three Coins | Four Coins | Five Coins | Six Coins | Seven Coins | Eight Coins | Nine Coins | Ten Coins | Coins Page | Knight of Coins | Queen of Coins | King of Coins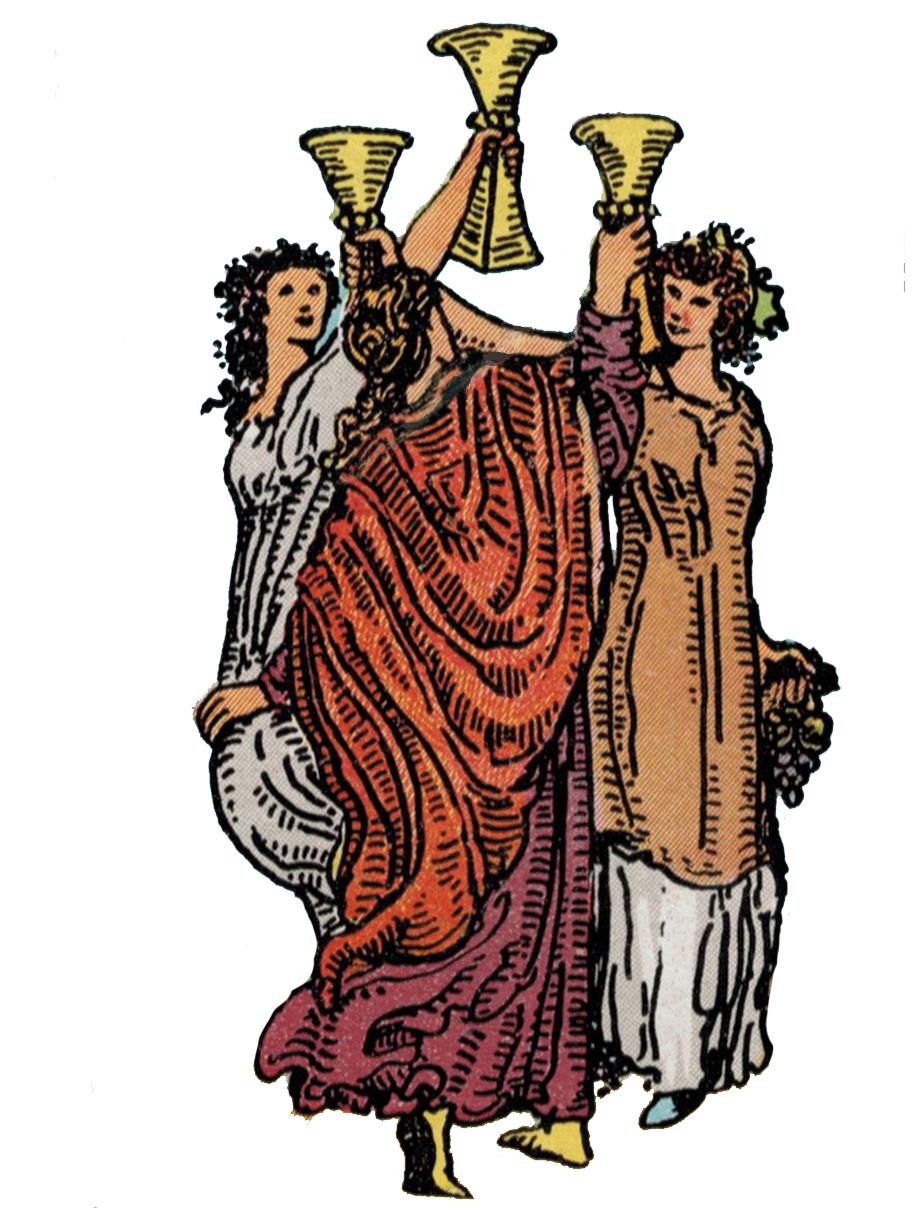 Cups
Ace of Cups | Two Cups | Three Cups | Four Cups | Five Cups | Six Cups | Seven Cups | Eight Cups | Nine Cups | Ten Cups | Cups Page | Knight of Cups | Queen of Cups | King of Cups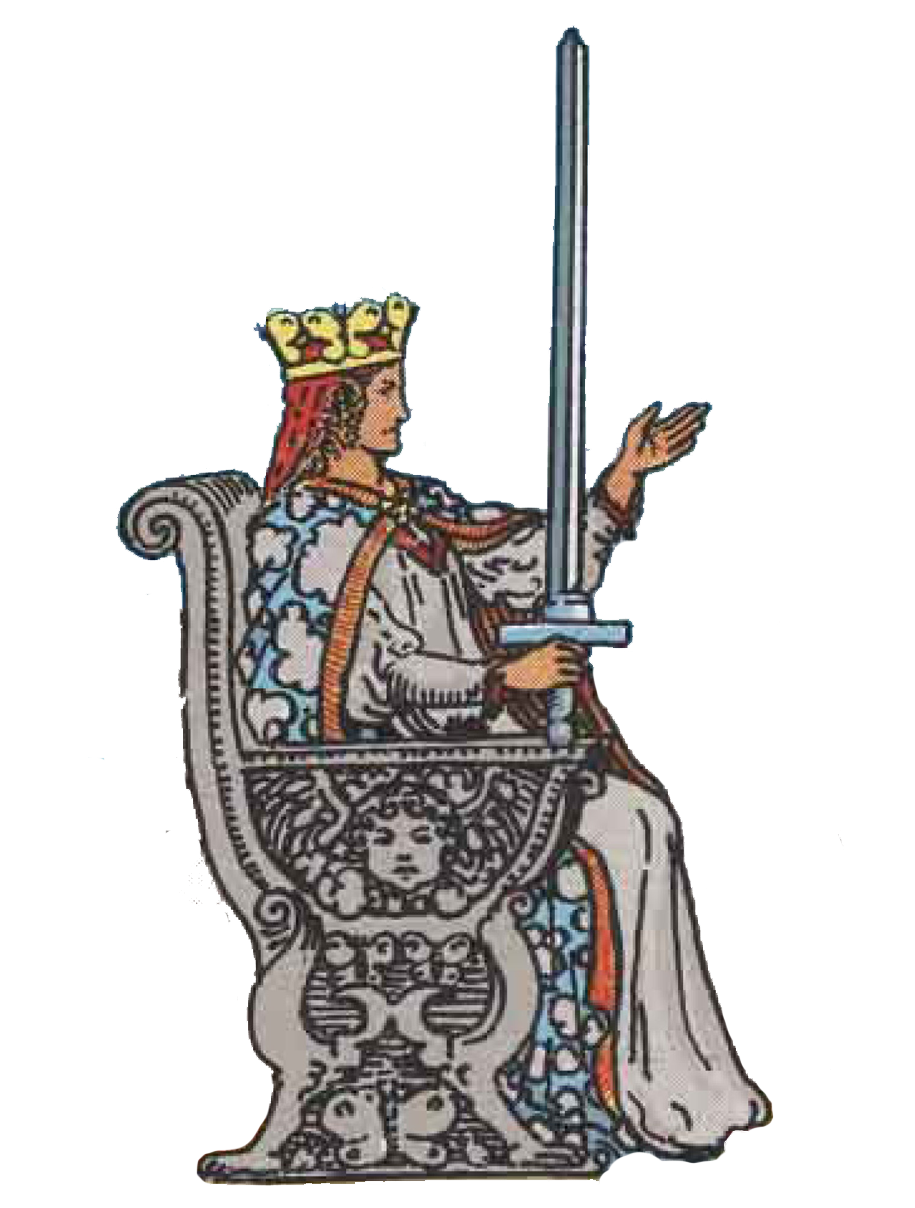 Swords
Ace of Swords | Two Swords | Three Swords | Four Swords | Five Swords | Six of Swords | Seven Swords | Eight Swords | Nine Swords | Ten of Swords | Swords Page | Knight of Swords | Queen of Swords | King of Swords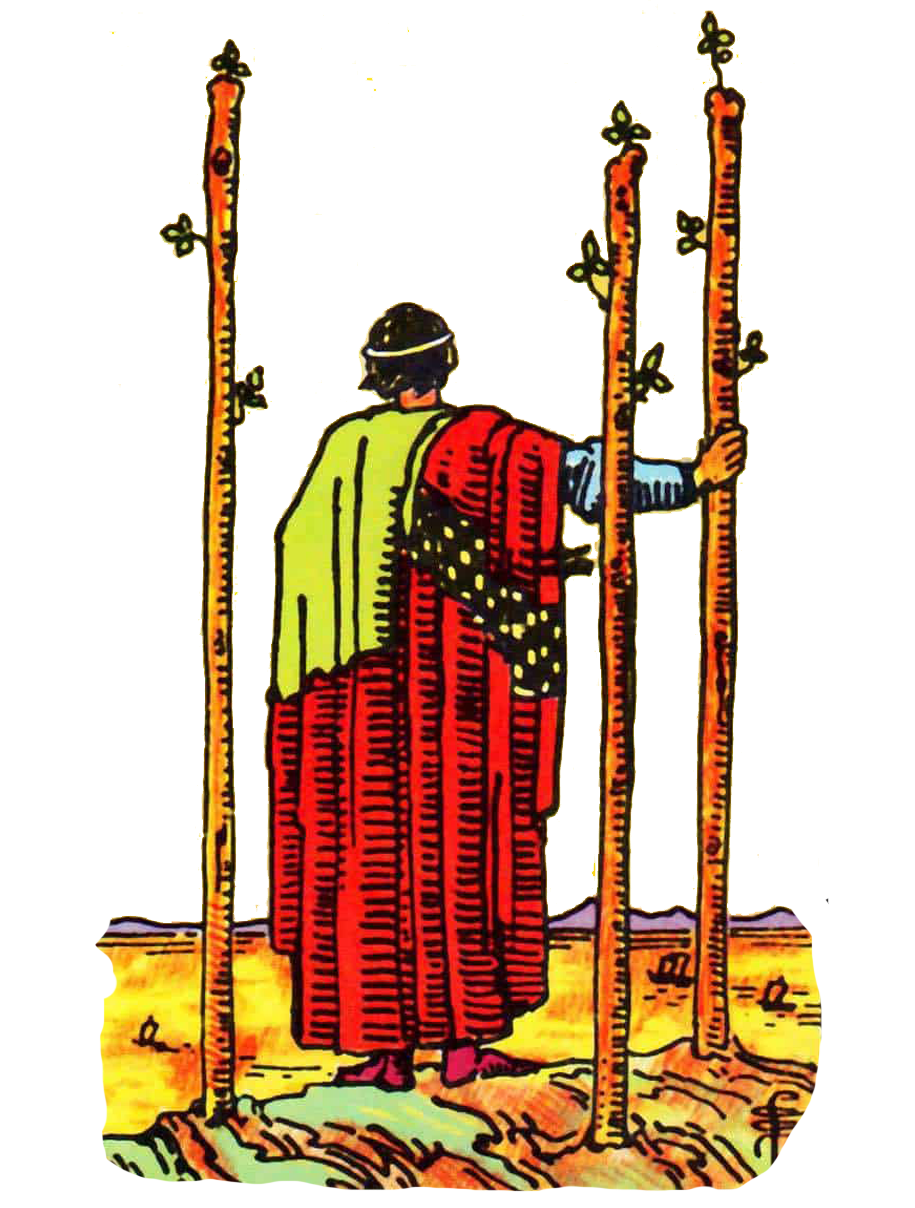 Wands
Ace of Wands | Two Wands | Three Wands | Four Wands | Five Wands | Six Wands | Seven Wands | Eight Wands | Nine Wands | Ten Wands | Wand's Page | Knight of Wands | Queen of Wands | King of Wands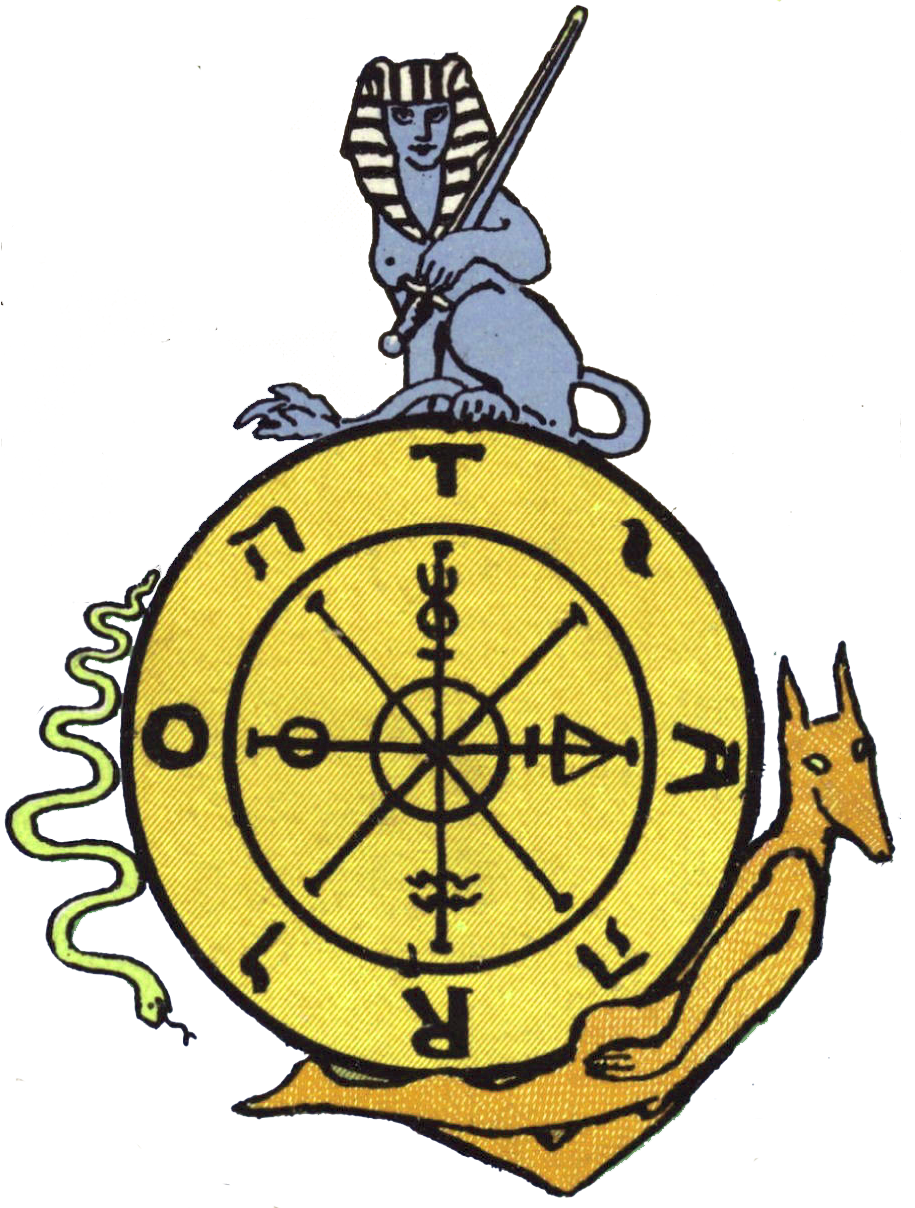 Pick a Tarot Card
The tarot cards can guide you in all life's issues - love, career, life choices, big or small. Draw a tarot card and become clearer about your choices.
Take a moment to think about your question before clicking on the card. If the universe doesn't know what the question is, it doesn't know what to answer!